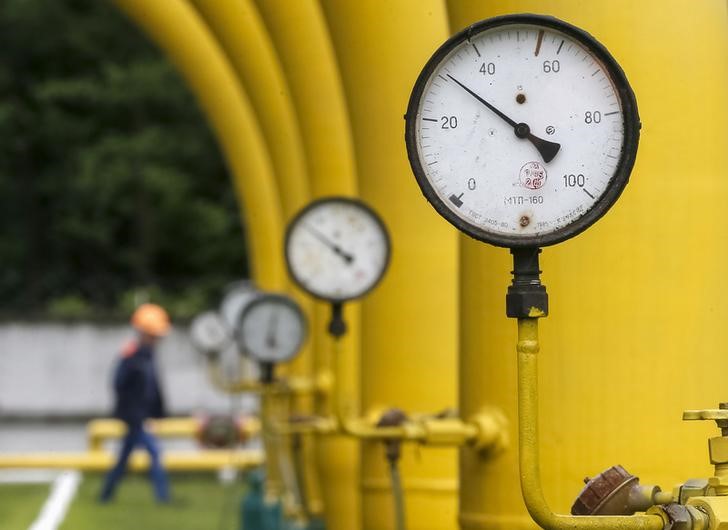 © Reuters. U.S. natural gas futures start the week on upbeat note
Investing.com – Natural gas futures started the week on the front foot on Monday, as traders reacted to bullish weather forecasts for most parts of the United States over the next two weeks, that should lead to an increase in heating demand.
Natural gas prices typically rise ahead of the winter as colder weather sparks indoor-heating demand.
The heating season from November through March is the peak demand period for U.S. gas consumption.
U.S. natural gas futures jumped almost eight cents, or around 3%, to $3.065 per million British thermal units by 8:00AM ET (1300GMT). It reached its best level since Sept. 21 at $3.095 earlier.
Futures rose around 0.7% last week as traders monitored near-term weather models to gauge demand for the heating fuel.
Meanwhile, market participants looked ahead to this week's storage data due on Thursday, which is expected to show a build in a range between 11 and 21 billion cubic feet (bcf) in the week ended Nov 3.
That compares with a gain of 65 bcf in the preceding week, a build of 54 bcf a year earlier and a five-year average rise of 45 bcf.
Total natural gas in storage currently stands at 3.775 trillion cubic feet (tcf), according to the U.S. Energy Information Administration. That figure is 180 bcf, or around 4.5%, lower than levels at this time a year ago and 41 bcf, or roughly 1.1%, below the five-year average for this time of year.
Analysts estimated the amount of gas in storage would end the April-October injection season at 3.8 tcf due primarily to higher liquefied natural gas shipments abroad. That would fall short of the year-earlier record of 4.0 tcf and the five-year average of 3.9 tcf.
sponsoredArticle = 'div-gpt-ad-1466339494851-0';